ELECTRONICS
LEDS-INDEX
Integ. Circuits

MISC. ITEMS
DVD+R Disks
PROJECTS
CLOCK

HAMMERS
Index for All

SURGICALS
Index for All

STETHOSCOPES
Index for All


BP MONITORS
Index for All


DIAGNOSTICS
Index for All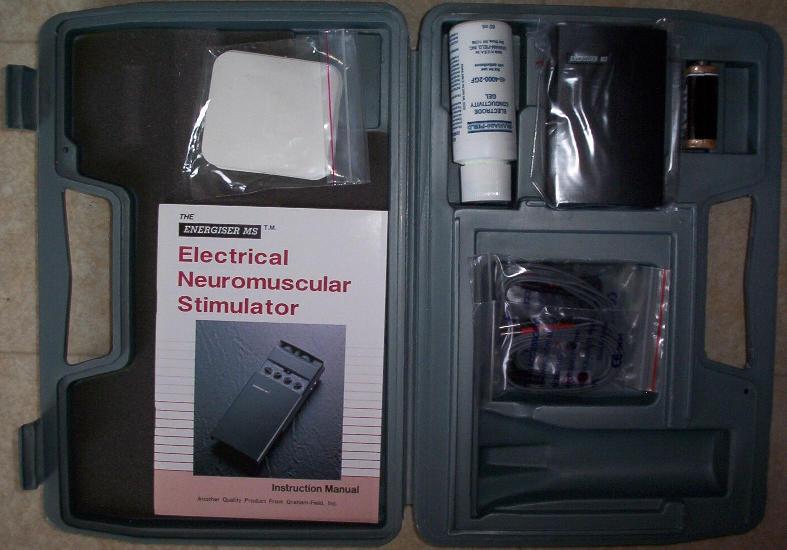 Analog Muscle Stimulator, The Energiser MS3000. The device is evidently made by Energiser but the whole kit with the device, wires, case, battery, Graham-Field electrode conductivity gel and electrode pads came from Graham-Field (before it absorbed Lumiscope). And that's exactly what you get here, everything you see; except the electrode conductivity gel may be subject to availability. Absurd as it may sound, when we purchased the last of the stock from Lumiscope, some of the bottles were empty! Apparently some of them didn't have their caps screwed on tightly in storage, and either leaked or evaporated. However, the reason it was included in the first place defies logic anyway, because the 4 electrode pads that are included, like, say, self-adhesive postage stamps, are meant to be used on clean, dry skin. So make sure to clean your skin with alcohol first and don't worry about the gel in the picture and you will be able to peel off and reuse the 4 pads for a very long time.
Fixed 250 microsecond pulse width, adjustable in frequency from 2 to 120 Hz, with the additional option to ramp it up and down on top of that with a period adjustable from 1 to 8 seconds, or sinusoidally cycle with a period between 1 and 30 seconds. Each unit has two outputs to control two independent connections through 4 electrodes.
Sometimes termed a tens unit, sometimes a 'neuromuscular stimulator', these have many particular as well as vague uses, from rapidly accelerating bone healing from fractures, to calming nerves. This one will require a prescription or medical license to purchase, unfortunately, as required by FDA regulations. I think it's really stupid that anyone can buy a taser and shock himself with 300 thousand volts but needs a doctor's approval to send milliamp pulses at controlled rates through himself, but them's the breaks it seems. List price is 100 dollars, and we found this item listed online at several places, none of which sold them for less than 90 dollars.
CLICK HERE to buy one for only $48.00! (Must have license or doctor's approval, FDA requirements.)
Click here to buy a different TENS unit with adjustable (60-250 microsecond) pulse width instead for $48.95