HAMMERS
Weights & Arm
Index for All
Bargains
New Troemner
Gold Troemner
New Queens Sq
SURGICALS
Index for All
Dissection Set
Close Outs
STETHOSCOPES
Index for All
Bargains
Peds. Respiratory
Teaching
Test YOUR Stethoscope!
BP MONITORS
Index for All
Parts
Bargains

DIAGNOSTICS
Index for All
Tuning Forks
Special SETS
Neurology Tools

HOW DO I ........... Use a BP Monitor?
Use a Stethoscope ?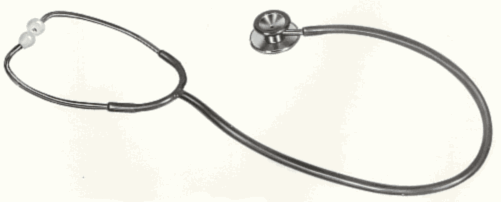 Dual Function Head and Air-Tight Machining! A special value as only a few remain from the original "PRECISION MADE IN JAPAN" Instruments.
When you want top quality workmanship and definitive sensitivity for critical diagnosis, this is the stethoscope. The Definer's stainless steel chestpiece is machined airtight! Test other stethoscopes and you will find leaky machining. See the AIRTIGHT MACHINING test.*
Adult size diaphragm and bell. The head is made of stainless steel. The binaurals are high-density chromed-brass. Silver gray tubing. When you use the DefinerTM you'll know you're using the best. Includes two pair of eartips (white plastic, soft rubber mushroom) for your individual comfort.
*The AIRTIGHT MACHINING TEST: turn the chestpiece so that you enable the bell (hole is under bell opening). Connect the stethoscope to your ears. Put one finger over the chestpiece bell hole to seal it. Lightly press on the diaphragm. Do you feel pressure in your ears when you press on the diaphragm? If so, the stethoscope is leaky. ONLY the most costly stethoscopes include this feature, which is crucial to sensitivity and professional quality.