Standard Latex Free Aneroid B.P. Unit $14.50
Requires Stethoscope to take BP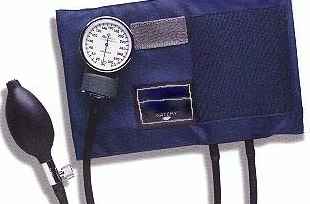 CAT. #S-2-L
Lumiscope Professional Aneroid Sphygmomanometer: Limited Lifetime Calibration Warranty. Velcro Adult Cuff. 2 tube bladder, the gauge hooks onto the cuff. Sphygmomanometers include a standard air release valve and carrying case. No-pinstop professional gauge. Non-latex bladder is blue and matches the blue nylon cuff.
Currently ON SALE for only $14.50 ea. (list up to $25.00)
ORDER LUMISCOPE STANDARD BP @ $14.50 ea
ORDER LUMISCOPE LARGE ADULT BP @ $15.95 ea
CLICK HERE to get a color-matched SET of this Sphygmomanometer and a Sprague-Rappaport stethoscope for only $19.99 (5.49 more!)
Just the Sphygmomanometer bulb @ $5.00 ea
Just the Sphygmomanometer pressure gauge @ $7.99 ea
.......and a few sites that provide some instructions for our devices.......