1. EXCLUSIVE Sprague-Rappaport headed TEACHING STETHOSCOPE with compact binaurals.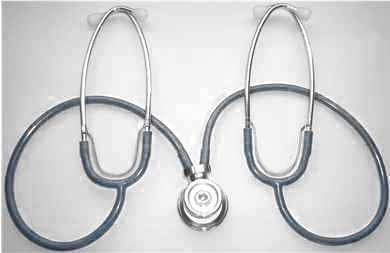 The chestpiece has interchangeable bells (3 sizes: adult, pediatric and neonatal) and diaphragm assemblies (2 sizes: adult and pediatric). The headpieces are Chromed-Brass compact design to allow ease in listening without compromise in sensitivity. Most of our tubing is PVC (Poly-vinyl-chloride a latex-free material) but if you really want it, and at this time that will be the default state, rather than latex. Each Teaching Stethoscope comes with a pair of regular hard ear pieces plus a pair of soft mushroom ear pieces. Colors: Black, GRAY, Lavender, Dark Blue, Light Blue, Teal, Green, Orange, Red and Pink.
An EXCELLENT VALUE
at only $19.99 ea. latex-free
ORDER TEACHING STETH. LATEX-FREE @ $19.99 EA.


2. HEAVYWEIGHT Sprague-Rappaport Teaching Stethoscope: S-R Binaurals and Head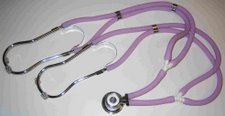 You will hear everything clearer with the newest version of our teaching stethoscope. Two heavy gauge chromed brass standard Sprague-Rappaport binaurals listen through a single Sprague-Rappaport head. 2 sets each of mushroom, hard and clear are included with each stethoscope plus adult, pediatric and neonatal bells, adult and pediatric diaphragm assemblies, spare diaphragm discs, extra tubing clips hold 2 tubings silent. Lavender, Dark Blue, Light Blue, Grey, Red-Orange, Purple, Pink, Dark Green and Black available. Colors shown are pretty close to the real thing (so if you order pink, expect something very flashy). However, we may have more or less of certain colors so if you don't really care, we're giving you an incentive to let us decide. If you would like to let us pick the color, it will cost you 50 cents less. Only 26.99. What will it be? Red? Pink? Dark green? Light blue? It's up to us. 27.49 if you specify the color. Please click on the appropriate link below. If you click on the 26.99 link yet specify color, we will honor your choice but you will be charged 27.49; similarly if you click on the 27.49 link but don't specify, we will choose and will only charge you 26.99.
CLICK HERE TO ORDER HEAVY-WEIGHT TEACHING STETHOSCOPE AND SELECT YOUR COLOR FOR ONLY $27.49 EA
Don't care about the color? Click here to get it for only 26.99 and let us choose it.
We produce these from Lumiscope Sprague-Rappaport stethoscopes - it is our design and our invention.

3. XXX HEAVYWEIGHT - with special "readyflex" tubing available only from Medwork Instruments for superior sound quality - Follow Link for more information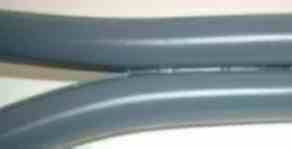 4. CLOSEOUT ITEM: Our lowest priced teaching stethoscope with a
regular dual head, not a Sprague-Rappaport head.
Manufactured by Labtron (part of Lumiscope). ALSO latex free.
Click here to order latex free $12.99