HAMMERS
Weights & Arm
Index for All
Today's Bargain
New Troemner
Our Original Troemner
Gold Troemner
NEW Queen SQ
SURGICALS
Index for All
Dissection Set
Close Outs
STETHOSCOPES
Index for All
Bargains
Peds Respiratory
Teaching
Test YOUR Stethoscope!
BP MONITORS
Index for All
Parts
Bargains

DIAGNOSTICS
Index for All
Tuning Forks
Special SETS
Neurology Tools
IMPROVED MODEL

Ultra Heavyweight!

The Troemner (sometimes called the Mayo) hammer is exceptionally distinguished. We like to say it is the Lamborghini of Reflex Hammers. This is the same as our gold troemner except that it is not gold plated. It is different from the regular troemner in that this is built more heavily.

NOT PLASTIC OR CHROMED BRASS AS SEEN ON AMAZON & EBAY



SOLD OUT! We're sorry. For the immediate future, they are not in production. Our partners who might have made them for us were wiped out by Hurricane Sandy in 2012. We have only sold out in 2014, and have heard nothing from them, so the prospects are not good. Please order the original CE model here instead (click here) or the heavyweight model but with the handle gold plated (click here).

This troemner percussor hammer is "CE" approved: the international mark of medical approval. The R8SP-BLK has bumpers that are age-proof, never hardening. Brushed Finish Stainless Steel. The head is standard stainless steel while the handle is "non-magnetic" stainless. You have to love this hammer for how it feels in your hand, how it looks, how well it elicits the most difficult reflexes.  23 cm in length and 201 grams (7.1 ounces) in weight - and that extra weight is all in its wider head.

Troemner Hammer as pictured above $

41.95 If this link is active, it is restocked. If not, please get the classic CE troemner. The bumpers are still available, if you want spare bumpers for your hammer which you already have. Also, the version with the handles gold plated are still in stock, and they use the same bumpers as well, they are the heavier weight model. Click on the link for the bumpers below to see their dimensions, as well.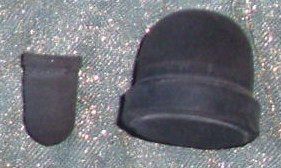 Click here to go to the Troemner classic CE page ($39.95)
Click here to go to the Troemner heavyweight with gold plated handle page ($51.95)
Click here to go to the Troemner heavyweight all (not just the handle) gold plated page ($62.95)
Click here to go to the Troemner streamlined and non-standard model page ($36.99)
Want a beater? Click here for troemner seconds (~16-31$ depending on individual unit)