HAMMERS
Weights & Arm
Index for All
Today's Bargain
New Troemner
Our Original Troemner
Gold Troemner
NEW Queen SQ
SURGICALS
Index for All
Dissection Set
Close Outs
STETHOSCOPES
Index for All
Bargains
Peds Respiratory
Teaching
Test YOUR Stethoscope!
BP MONITORS
Index for All
Parts
Bargains

DIAGNOSTICS
Index for All
Tuning Forks
Special SETS
Neurology Tools
HOW DO I ......... Use a BP Monitor?
Listen through a Stethoscope Bell or fit the Earpieces?
The perfect Hammer to present at Graduation or for other Significant Awards
Or just to make yourself look good!

This is the all gold version of the The Minnesota Hammer available here for $51.95. Unfortunately, the all-gold hammer is out of stock. Our contractor was wiped out by Hurricane Sandy in 2012 so prospects are bleak. But the version with just the handle gold plated is still available here. The gold finish is high-gloss but also very tough - it will not rub off like a thin layer of gold. It is meant to be used. The feel and weight of the hammer will make this your special doctor's first choice whenever he or she needs a neuro-percussor. It is heavier and has a larger head, a larger bumper than our regular Troemner. It is much closer in design to the original Troemner designed by Dr. Troemner ...Read more about the History of This and other Reflex Hammers by following this LINK.
The distinguished appearance of this percussion hammer makes it an elegant presentation gift to an accomplished physician or trainee. The gold finish is glossy and it is applied only on the handle. "Success without excess" is the theme of this percussion hammer. Of course, it is also for the physician who appreciates using instruments of highest quality in both appearance and function.

The excellence of this percussion hammer extends far beyond appearance. Its fine balance and 201 gram (7.1 ounce) mass allow the physician to easily deliver an effective percussion impulse. Its unique high-tech synthetic rubber bumpers are both effective in transmitting the percussion impulse and painless for the patient. Moreover, these "State of the Art" bumpers resist degradation and hardening with time. Exclusively available through Medwork Instruments!
Never-age bumper set for presentation $6.50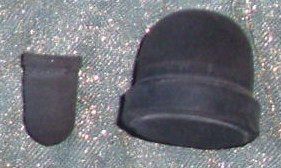 Click here to go to the Troemner classic CE page ($39.95)
Click here to go to the Troemner heavyweight page - this but with no gold ($41.95)
Click here to go to the Troemner heavyweight with gold plated handle page ($51.95)
Click here to go to the Troemner streamlined and non-standard model page ($36.99)
Want a beater? Click here for troemner seconds (~16-31$ depending on individual unit)