HAMMERS
Weights & Arm
Index for All
Today's Bargain
New Troemner
Our Original Troemner
Gold Troemner
NEW Queen SQ
SURGICALS
Index for All
Dissection Set
Close Outs
STETHOSCOPES
Index for All
Bargains
Respiratory
Teaching
Test YOUR Stethoscope!
BP MONITORS
Index for All
Parts
Bargains

DIAGNOSTICS
Index for All
Tuning Forks
Special SETS
Neurology Tools
HOW DO I ......... Use a BP Monitor?
Listen through a Stethoscope Bell or fit the Earpieces?
Brushed Stainless Steel, BLACK SUPER SOFT BUMPERS $39.95


Click the picture to see a side by side comparison of the heads of this (the R8S-BLK) and the "heavyweight" model (the R8SMEGA). Despite their names, the weights are actually very nearly the same.
Click here to get the 201 gram model for 41.95! Take note that the bumpers for this, the smaller model, are not the same size. To be more precise, the pediatric bumper is the same size but the large bumper is smaller on this model than the slightly heavier model for $41.95.

Our Troemner is stainless steel, CE approved with black SUPER SOFT BUMPERS is our EXCLUSIVE improved version of the old Classic. The Troemner has a brushed stainless steel finish for professional appearance and is also less likely to mar, it is far easier to engrave. The head is standard stainless steel while the handle is "non-magnetic" stainless, meaning it has more chromium and less iron in the alloy, making it far harder and all but invulnerable to corrosion even at high temperatures. You have to love this hammer for how it feels in your hand, how it looks, how well it elicits the most difficult reflex because it has a heavier weight 193 gm (6.8 ounces) than those of our competitors (though not as heavy as our new Troemner). 24 cm long (9.5 inches).
Troemner Hammer as pictured above $39.95
Extra Set Super soft black bumper $6.00*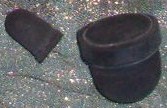 *If you have purchased a Troemner Hammer from us (CE version) in the past 5 years the above bumpers WILL fit your hammer. Give us the month/year in the COMMENTS section on the order form and we will verify your purchase and take $2.00 off the cost of the bumper set when we process your order. These bumpers WILL NOT fit other manufacturer's hammers!
NOTE: If the bumper set is ALL you order, getting the 2 dollar discount will put you below the minimum order size and you will be charged a 4 dollar small order fee, and that 2 dollar discount will cost you 2 dollars, so you might want to order something else too!
Click here to go to the Troemner heavyweight page ($41.95)
Click here to go to the Troemner heavyweight with gold plated handle page ($51.95)
Click here to go to the Troemner heavyweight all (not just the handle) gold plated page ($62.95)
Click here to go to the Troemner streamlined and non-standard model page ($36.99)
Want a beater? Click here for troemner seconds (~16-31$ depending on individual unit)