HAMMERS
Weights & Arm
Index for All
Bargains
New Troemner
Our Original Troemner
Gold Troemner
New Queens Sq
SURGICALS
Index for All
Dissection Set
Close Outs
STETHOSCOPES
Index for All
Bargains
Peds Respiratory
Teaching
BP MONITORS
Index for All
Parts
Bargains

DIAGNOSTICS
Index for All
Tuning Forks
Special SETS
Neurology Tools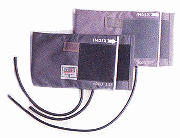 Pictured are 2 Blood Pressure cuffs with bladders. Note one has a single tube and 1 has 2 tubes.
If your BP unit has a bulb on one tube and a gauge on another tube you have a "Standard" type sphygmomanometer and you need to buy a 2-tube bladder set. You will receive a Cotton cuff with velcro closure, 2 tubes. No connectors or other parts are included at this close-out price of $7.00. Size of the cotton cuff is 5 inches by 21-3/4 inches. Bladder is appropriate size to fit this size bladder. For use with regular size people.
These are brand new units, never used. As of this writing, we have some that are imported from Japan, and if we run out of those, we have identical cuffs from Lumiscope if we decide to continue this offer; even though they came from opposite sides of the world, the only difference we can tell between them is that they say Lumiscope on them and the colors are a little more friendly (dark blue, black, dark green, violet and others instead of a UPS sort of brown).
ORDER ADULT BP CUFF/BLADDER 2-TUBE SET @ $
7.