Professional Medical Examination Instruments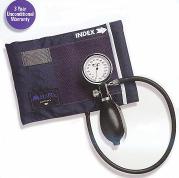 TO ORDER #S3M MABIS DELUXE PALM ANEROID @ $61.00
One-hand overpressure-proof blood pressure instrument. Accurate. Ideal for ECT cuffing. includes adult-size cuff #S3M $61.00 each. Accessories to adapt this instrument to cuff the leg – color coded cuff for immediate recognition: Thigh cuff (gray nylon cuff), with speed adaptor #19309+A $18.90 set. (without adaptor $16.90 - see BP Parts/Thigh)

TO BUY #19309+A SET @ $18.90 ea.

COMPACT DUAL STETHOSCOPES: Fully equivalent to the standard instruments that sell for 3-6 times as much. Highest quality. Airtight machining. Sleek. Binaurals are brass with hidden spring, tubing is 22" long. Complete with regular and soft mushroom ear pieces. Made in Japan.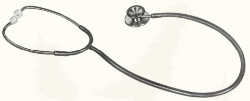 The Definer stethoscope, with brushed stainless steel chestpiece for durability with sensitivity. #A9 $22.99

A reliable, powerful, easy-to-use reflex percussion hammer: Economically priced, the Rabiner/Babinski Hammer as pictured above includes the regular small medium bumper and the large medium bumper. Much easier to use and much more effective than the taylor tomahawk hammer, whenever you check reflexes. Our hammer has a medium bumper. #R7+2. $7.99 each.