HAMMERS
Weights & Arm
Index for All
Bargains
New Troemner
Our Original Troemner
Gold Troemner
New Queens Sq
SURGICALS
Index for All
Dissection Set
Close Outs
STETHOSCOPES
Index for All
Bargains
Respiratory
Teaching
Test YOUR Stethoscope!
BP MONITORS
Index for All
Parts
Bargains

DIAGNOSTICS
Index for All
Tuning Forks
Special SETS
Neurology Tools

HOW DO I ........... Use a BP Monitor?
Use a Stethoscope ?
# TSR - $

19.99 Limited to Stock on Hand! This price is a close-out - it will NOT be repeated!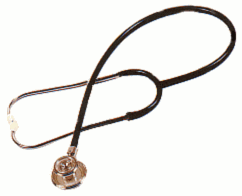 The picture shows black tubing - stethoscope actually has gray tubing, chromed brass binaurals and anodized diaphragm backings. The bezels (rings that hold the clear disks in place) are chromed brass. The core of the stethoscope head is chromed brass. The bells are anodized aluminum. The TSR combines the best of 2 stethoscopes. You have the head with adult and pediatric interchangeable parts (LIKE A SPRAGUE) but you have a single tube compact binaural (LIKE A LITTMANN CLASSIC) so that you don't have to wear it over your shoulder or carry it in a medical bag. Tucks neatly in your pocket.
Not to be confused with our competition's "Lite" version. This Sprague Compact has extra-dense brass binaurals and hidden binaural spring. The curved shape of our heavy-weight chromed brass binaural makes for a more comfortable fit as well. Complete with Adult size and Pediatric size binaural assemblies, Adult, Pediatric and Neo-natal bells, regular plus soft mushroom eartips and clear soft eartips as well. Also replacement diaphragm disks for the future, all stored in a tidy little pocket pouch with snap. You will be pleased with the sensitivity of this fine stethoscope! THIS is the sort of stethoscope our competitors charge upwards of 100 dollars for!
19.99