HAMMERS
Weights & Arm
Index for All
Bargains
New Troemner
Our Original Troemner
Gold Troemner
New Queens Sq
SURGICALS
Index for All
Dissection Set
Close Outs
STETHOSCOPES
Index for All
Bargains
Respiratory
Teaching
BP MONITORS
Index for All
Parts
Bargains

DIAGNOSTICS
Index for All
Tuning Forks
Special SETS
Neurology Tools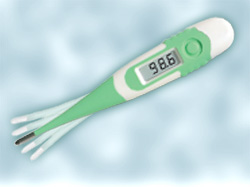 LUMISCOPE Flexible 10 Second Read Dual Scale Digital Thermometer
Model 2214 $5.15
Features: Flexible tip for patient comfort * Measures temperature in 10 seconds with +/1 0.2oF(0.1oC) accuracy * Jumbo Digital Display for easy reading * Last Reading Recall * Auto-off * For oral, rectal or underarm use: Waterproof * Beeps when ready * Storage case & battery included.
ORDER Flexible FAST READ @ $5.15
จจจ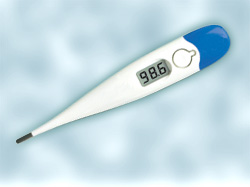 LUMISCOPE 10 Second Read Dual Scale Digital Thermometer
Model 2210 $4.55
Features: In 10 seconds measures temperature * Dual scale measures in Fahrenheit and Celsius * Memory recall * Auto-off
Waterproof * Beeps when ready * Storage case & battery included.
* EAR THERMOMETERS ARE NOT THE BEST CHOICE WITH CHILDREN
Reference: Dodd SR, Lancaster GA, Craig JV, Smyth RL, Williamson PR. In a systematic review, infrared ear thermometry for fever diagnosis in children finds poor sensitivity. J Clin Epidemiol 2006;59:354-357.
Synopsis: Basically the authors completed studies (Lancet 2002;360:603-609) demonstrating that the results from ear thermometry varied widely from those gained from rectal thermometry in children. Data from nearly 4100 children demonstrated ear thermometry is not very reliable in detecting fever. The sensitivity of ear thermometry ranged from 0 to 100%. Although it is fast and easy, the use of ear thermometry should be limited to those situations in which it doesn't matter if fever is present.