Labtron instruments at absurd prices. Cheap stethoscopes and stethoscope parts. We got them for their parts to make other stethoscopes out of, but we kind of went a little overboard with the quantities. Don't need a top-of-the-line stethoscope for hearing the subtlest details? Would you be apt to call us and ask us to give you the cheapest stethoscope we've got? Then this is the right page to be on! NOTE: It turns out that these stethoscopes are latex free after all! We originally reported them as containing latex, but it turns out that it's only the bulb and bladder in the sphygmomanometer in the blood pressure kit on this page that actually contains latex, not all the labtron stethoscopes! (and possibly the compact Sprague-Rappaport steths on this page - I can't confirm or deny it because I lack that information - and the tubing looks the same as the Labron stuff and it's all from Lumiscope, so it seems likely to be latex free) So when comparing these to the same items offered by our competitors, do not get confused when they claim them to be latex free - for it seems ours are as well! Comes in a nice little box as you can see below.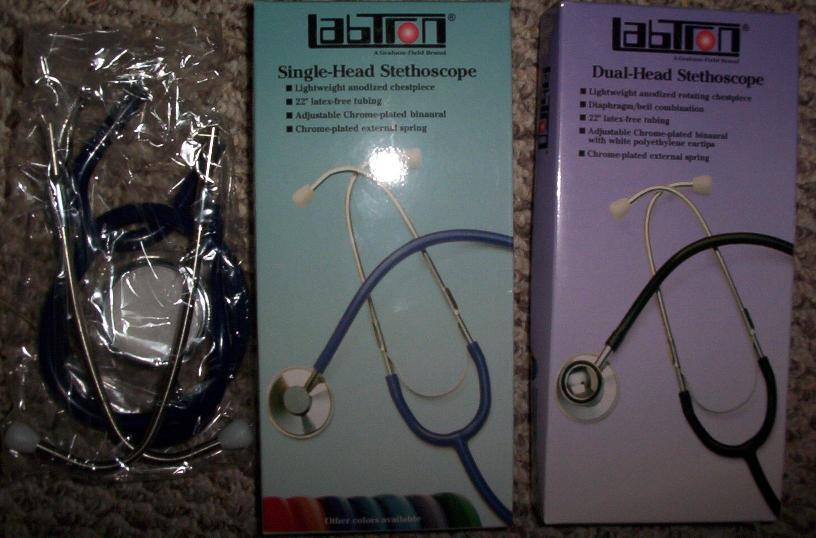 Dual head stethoscope: $6.29
10 dual head stethoscopes: $56.98
color choices: Black, GRAY, Dark Blue, Teal, Green, Red and Pink.
Sorry, sold out of the model of single head steth shown above. Click here for our other model of single head stethoscope (shown below in hangable bag): $4.99 (quantity discounts available)
color choice: Black only.
Disposable plastic-head stethoscope: $4.14
10 disposable plastic-head stethoscopes: $38.33
color choice: Black only.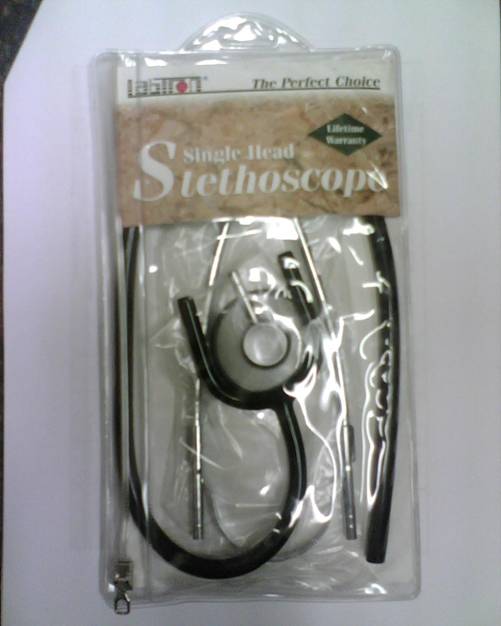 Single-head nursing stethoscope in hangable clear plastic zipper bag: $4.99 (quantity discounts available, just click to see)
color choice: Black only.
Or you can just get the heads!
Dual head (twist to alternate between small/large diaphragm) - 1.5 ounces: $1.99 - note: this is the only one with a wide enough spigot to fit Sprague-Rappaport tubing.
Single head - 0.8 ounce: $1.29
Disposable plastic-head - 0.3 ounce (they work remarkably well, all things considered): $.64
10 disposable plastic-heads: $4.99

Compact Sprague-Rappaport Stethoscope:
Click for a larger image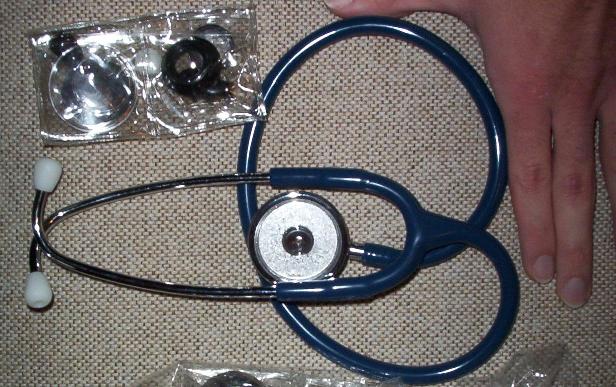 Compact Sprague-Rappaport stethoscope with accessory pouch. Has that distinctive Sprague-Rappaport dual-head you probably know and love if you're reading these words. It includes 5 chestpiece fittings that can be attached any 2 at a time: adult, pediatric and neonatal size bells and adult and pediatric diaphragm assemblies. There is an accessory pouch that also contains an extra set of diaphragm discs and 2 different styles of ear pieces (soft rubber mushroom and regular hard) and the 3 chestpiece fittings that are not already on the scope. Blue latex tubing is your only color choice. Comes in a plastic bag; no box available at this price. Get them while they last! This is technically not a true Sprague-Rappaport because rather than two completely separate strands of tubing that each connect to the head, rather the binaurals connect to two strands of tubing that join together in a y-connection before going to the head, so standard Sprague-Rappaport replacement tubing will NOT be compatible with this stethoscope.

We have recently put a little more attention into testing these stethoscopes, and it turns out that they are actually all airtight machined. Which means they are not just good stethoscopes (and therefore probably shouldn't be on this page) but they are great stethoscopes! Better by far than our regular non-compact 'Sprague Rappaport' stethoscopes manufactured by Lumiscope. So if you are looking for a perfect combination of cost and quality, look no further!

Get this free! (click here) Click here to order the compact Sprague-Rappaport stethoscope for $13.99
Click here to order 10 compact Sprague-Rappaport stethoscopes for $133.99

The single-head stethoscope is also available in a home blood pressure kit. Together with a nice little sphygmomanometer, they come together in a soft imitation-leather zipper case. NOTE: The sphygmomanometer's tubing and squeeze bulb contain latex, but not the stethoscope.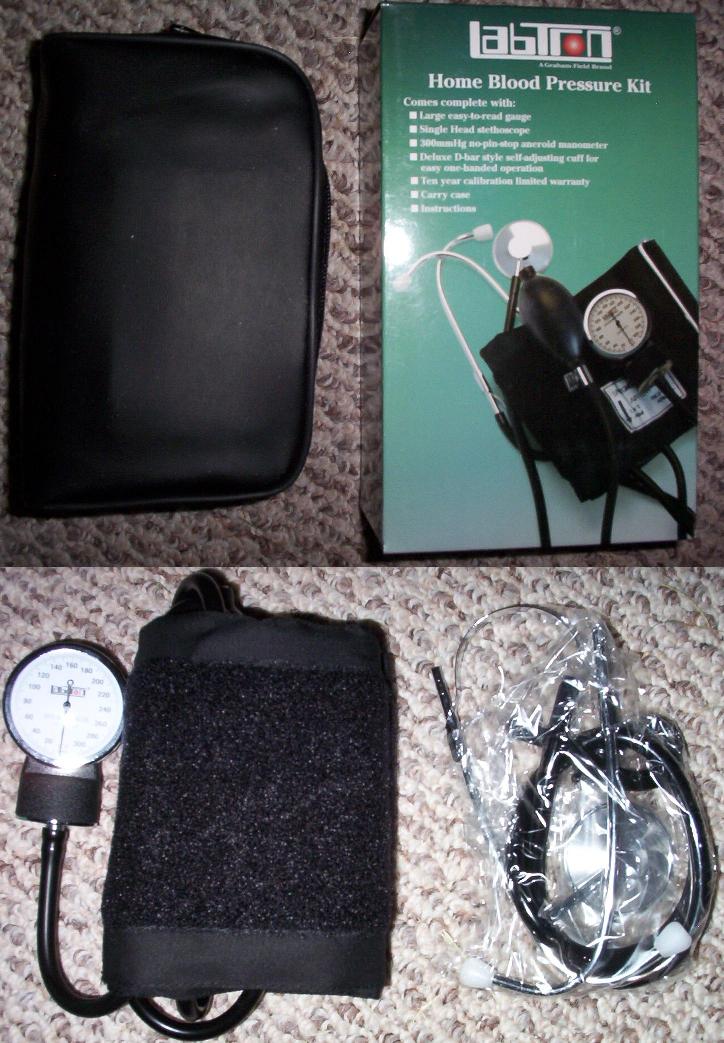 Click here to order a single head basic stethoscope + BP set for 12.99
color choice: Black only.
Finally, we can provide you a teaching stethoscope in this series as well. It is not like any of our other teaching stethoscopes here because it does not have a Sprague-Rappaport head, but at least it is a dual head. Also latex-free.
Click here to go to SR teaching stethoscopes.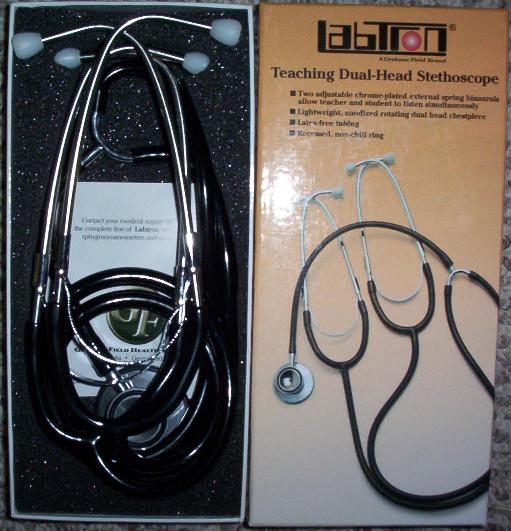 Click here to order a dual head Labtron teaching stethoscope for 12.99 latex free!
color choice: Black only.