HAMMERS
Weights & Arm
Index for All
Today's Bargain
New Troemner
Our Original Troemner
Gold Troemner
NEW Queen SQ
SURGICALS
Index for All
Dissection Set
Close Outs
STETHOSCOPES
Index for All
Bargains
Peds Respiratory
Teaching
Test YOUR Stethoscope!
BP MONITORS
Index for All
Parts
Bargains

DIAGNOSTICS
Index for All
Tuning Forks
Special SETS
Neurology Tools
OUR OLD MODEL (the "troemner streamlined") IS NOW SOLD OUT. The engraving example with "SP" on it was actually the last one - click here to see. But this page is now devoted to all our perfectly good non-standard models in stock. So if you are looking for a discount troemner reflex hammer for sale that doesn't sacrifice quality, you found a good page.
This page is devoted to the hammers that aren't exactly like hundreds of its brothers and sisters, but rather they are prototypes, or use parts that aren't exactly the same as our standard units - they are somehow different, they are unique - but there is nothing wrong with them. The bumpers they use are still standard enough, however, so don't worry about the prospect of replacement bumpers.
If you are looking for seconds - units that DO have some sort of defect and are therefore sold at a GREATER discount than these, the perfectly good non-standard units, then click HERE.
The hammers available here MAY use the same bumpers (click here to order for $6) as our 7 ounce CE model which goes for $39.95 (click here to go the information page for the CE hammer).
Or maybe they use:
The larger bumper set for the ULTRA-HVYWGT @ $6.50 each
which fits our larger headed mega troemner (click here).

It could go either way, but more likely than not, they fit the CE classic model (these bumpers are a little smaller). At the moment, by default, we will send the kind that uses the smaller bumpers. We have still other hammers that use even bigger bumpers, but we would only send those on request.
NOT PLASTIC OR CHROMED BRASS AS SEEN ON AMAZON & EBAY
Click here to see the entire picture and at twice the resolution
Click here or on the picture below to order this Troemner for $36.99.



Click here or on the picture below to order the bumper smaller bumper set which will fit these Troemners for $6.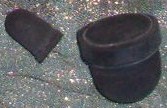 Click here to go to the Troemner classic CE page ($39.95)
Click here to go to the Troemner heavyweight page ($41.95)
Click here to go to the Troemner heavyweight with gold plated handle page ($51.95)
Click here to go to the Troemner heavyweight all gold plated page ($62.95)
Want a beater? Click here for troemner seconds (~16-31$ depending on individual unit)